And NOW, the end is near… With the final 2 days of Preptober coming to a close, and NaNoWriMo about to begin, where did we land? Are you Ready? Let's check out our final Preptober details and then get ready to move into our full writing mode, or as close as we can get.
The leaves have started to change color and more fall as I contemplate the changes to come. They pile upon the ground as the words flow out of my mind and into the twisting avenues of my story world. We are making progress, I tell myself, and I can almost make myself believe it. Preptober led us to some interesting places, and we were able to get much of the prep work done ahead of our NaNoWriMo journey which will begin tomorrow.
The Progress
The work area has been prepared and a clean and clear desk is waiting to start the writing activities. We have updated Campfire with our story details and added in more of the world-building details to help shape the environment. Campfire is now linked with the NaNoWriMo portal and the project is ready to be tracked.
Our scene list spreadsheet has been updated and we have a map of where we want to go. Our characters are being shaped and molded by the milestone events that we have planned and we will spend most of the month figuring out the intricacies involved in shaping them into dynamic personalities that come alive off the page.
Being Creative
Leveraging the new AI concept generation for imagery, like MidJourney and other services, helps bring some words and ideas into a visual design. While this will not be material to our story development, it will help to continue to spark ideas for scenery and character design as I work through how to build the story around the rest of the world I envision.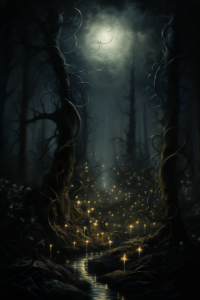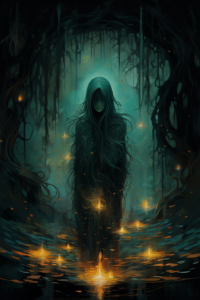 Let's get started…
While I sit tonight waiting on entertainingly dressed families wandering through the neighborhood seeking free candy, I am excited to have some time to focus on the shaping of the story. The ideas are starting to flow and the excitement is building. Let the writing begin! Follow our progress and the story.